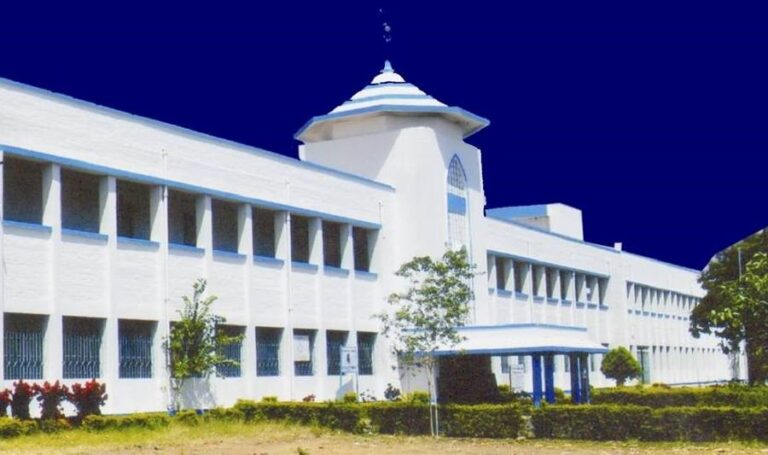 Govindram Seksaria College of Commerce, Wardha has been the pioneer in Commerce education in Central India. In 1940, it was its first Commerce College, innaugurated at the hands of Sardar Vallabhai Patel. Due to its establishment the Commerce department came into existence in Nagpur (now RTM Nagpur) University. In 1944, it was the first to start the M.Com in this region. In 1945, it was the first to start to teach Commerce in the Hindi medium, an initiative dear to Gandhiji, who innaugurated it on 9th August 1945.  The bhoomipooja of the college building was performed by Shri Lal Bahadur Shastri on 11th November, 1961 and its inauguration was done by Dr. Sarvapalli Radhakrishnan, the then President of India, on 6th December, 1964.
Shiksha Mandal, Wardha, the parent institution of the College has since its inception in 1914 by Shri Jamnalal Bajaj, been committed to providing nationalistic, values based, quality education. The first Indian Education Conference, chaired by Gandhiji, was organised by Shiksha Mandal in 1937. We are therefore conscious of our legacy and our responsibility to be worthy of it. In this we are supported unstintingly by Shiksha Mandal, which is currently headed by Shri Rahul Bajaj, Chairman, Bajaj Auto Ltd.
The College started with student strength of 158 and now has 803 students at the Under Graduate Level. The college has also started M.Com. Course in 1944 with an initial strength of 7 students, today we have an enrolment of 203 at the Post Graduate Level.  Our motto is "Udyogiham Purushsinham Urpeti Laxmi"(Industrious and lion-hearted men generate wealth) and we strive to be true to it.  The institution is set in a serene campus with a spread of 6.6 acres. The infrastructural facilities include two big double storied buildings with all necessary amenities to meet the needs of both the faculty and students. The college operates in a single shift to facilitate increased academic effort and enhanced sports and extra-curricular activities. Besides the usual facilities it has two computer labs, Language lab, commerce lab, a centralized library with over 50,000 books, internet facility and appropriate library software.  The college has permanent teaching faculty strength of 18 of which 10 are Ph.Ds. and 9 are Ph.D. supervisors. Six of them are authors/co-authors of books written in commerce and management. One of them is in CA (Final). The College is well known for its merit based selection of teachers. In recent times it has been advertising its vacancies on the UGC job portal.
The college offers the traditional courses like B.Com and M.Com as well as self financing courses like B.Com (CA), B.Com (Non Grant), and MBA. It also conducts value added courses including Guidance for CA-CPT Exam, Computerised Accounting, English and Communication Skills at very nominal cost. For 2 years running the passing % of its CA-CPT students has been 50% against the national of 27%. The culture of the college is student centric and academic focused, because of which the NAAC awarded us the B++ in the year 2004 & B Grade in the year 2014. Since then, our journey towards better delivery of services has become stronger. Our teachers are going beyond their call of duty and discharging additional responsibilities.  The college also conducts the extra-curricular and co-curricular activities like N.C.C., N.S.S., Sports and Games, Cultural events etc. A good number of our students are also participating in the academic and co-curricular events conducted by the university/ college both intra and inter arena every year, and have secured University level, State Level and National Level positions.  At present 1 faculty member of the College is undertaking a Major Research Project and 4 members submitted their Minor Research Projects of U.G.C. Apart from this, 09 are pursuing their Ph.D. work. The research culture extends to the students by way of their participation in "Avishkar" a State Level inter university research competition in which our students have been securing the first position at the university level since the last 5 years and are representing the University at the State level.
The College has been organising Seminars regularly. In recent times we have gone for having eminent speakers from Industry in them. The College hosts a number of Shiksha Mandal events including the Kamalnayan Bajaj Inter University Elocution Competion, now in its 45th year and an annual Public lecture by an eminent Social worker & thinker on Independence Day. The College has an active Alumni association and cordial & constructive Parent-Teacher interactions. Since our last NAAC accreditation in 2014 we have improved significantly on many dimensions.
In its 79rd year of existence, GSW can say with a lot of pride that it is doing its best to fulfill the aims and objectives with which it started its journey in 1940. During the course of its journey, the college has undergone quite a few changes but that was never at the cost of our basic approach. So, while taking strides towards modernity, we have not forsaken our commitment to the Shiksha Mandal legacy of providing values based, quality education at an affordable cost, even as higher education is being commercialized at a rapid pace.